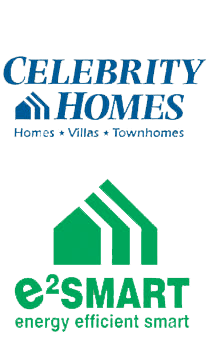 https://youtube.com/watch?v=r-uma5qd7u8
E2 SMART, offered exclusively by Celebrity Homes, offers numerous energy efficient features in each Celebrity Home. These features range from "Celebrity's Smart Designs" and building techniques to products.
E2 SMART offers an additional benefit to our customers…SAVINGS! With better efficiency comes savings.  Simply put, you will spend less on your utility bills with a New Celebrity Home.  In addition to the savings, you will enjoy the overall comfort that comes with every New Celebrity Home.
Other FACTS
Exclusive "Comfort Sealed Application"
93% Efficiency Furnace / 13 SEER Air Conditioner
Low-E insulated windows
Durable High "R" value insulation in attic and walls!
An improvement in energy efficiency of up to 22% of newer homes*
An improvement in energy efficiency of up to 30 – 40 percent of used homes**
Note: Celebrity Homes, along with another 3,500 home builders have agreed with the EPA guidelines to construct home qualified to meet energy code standards. Celebrity Homes not only meets EPA requirements, as noted above, WE EXCEED THEM!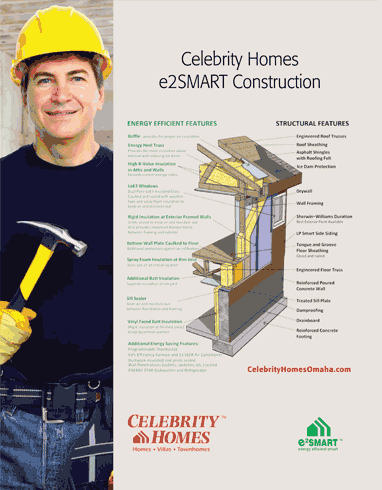 click the image above to download/print the flyer

*When compared to 2006 International Energy Conservation Code
**When compared to the energy efficiency of a typical 10 year old home, as defined by the U.S. Department of Energy's Building America Program.